The story of Jimmy Mak's is way too big for one person to tell.  It could fill a library!  But for me, as for many other musicians and music fans, the impending closing of Jimmy Mak's—at least at its current location and possibly forever—is triggering a lot of personal memories.  I performed at this wonderful venue (including both locations) around 1,800 times over 19 plus years!  There were so many magical nights along the way that I can't get my mind around it.  It's not an exaggeration to say that my Jimmy Mak's experience has been a dream come true.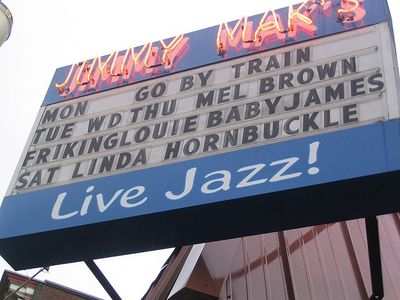 Marquee at the original, 10th & Everett club location
 
That dream really began when, some time after moving to Portland from the San Francisco Bay Area in '86, I began getting out and hearing Mel Brown.  I'd attempted to leave the music business behind when I'd moved north, figuring journalism was the career I should have pursued.  I stuck with the plan for four years—graduating from PSU with high honors and literally not touching a keyboard during much of that time.  But I did venture out to hear some music, and Mel was one of my favorites.  I marveled at his elegant, effortless swing and fantasized about playing with him.  Did he ever play with organists or was he a piano-jazz purist?  (At the time, I knew nothing about Mel's early years playing with Billy Larkin and Benny Wilson.)  I'd played with some great musicians in the Bay Area, but no one quite like Mel.
Beginning in 1990, I drifted back into the music biz, playing in a wonderful blues band led by the late, great Paul deLay.  I loved that experience, but I missed the organ group soul-jazz I'd cut my teeth in back in the Bay Area.  Eventually, in July 1996, drummer Tom Royer and I started up a regular off-night organ group gig at the Gemini Pub in Lake Oswego.  We called ourselves "The Blue Monday All-Stars," with Curtis Salgado on vocals; Dan Faehnle or Dan Balmer, guitar; Renato Caranto, sax; etc.  Nice band!  
One night, I noticed Mel Brown out in the audience, but I don't think we spoke, and I didn't think much about it.  But a month or so after the Gemini gig ended—in July 1997—I got a call from Mel asking if I'd like to play a Tuesday night gig with him at a place called Berbati's Pan.  (I later learned that he'd been keeping his eye out for an organist for some time.)  The band would include Mel's right hand man Thara Memory on trumpet, Dan Faehnle (who had already worked a lot with Mel), Renato, and me.  Much later, I learned that Mel and Thara had referred to Renato or me as "Junior"; we were like rookie ballplayers being called up to play with the big club! 
I guess we passed the audition, because the next week Mel called to ask if we'd like to play Thursday nights with the same group at a new club called "Jimmy Mak's" (on my calendar, I spelled it "Jimmy Mack's").  The date of that gig was September 25, 1997.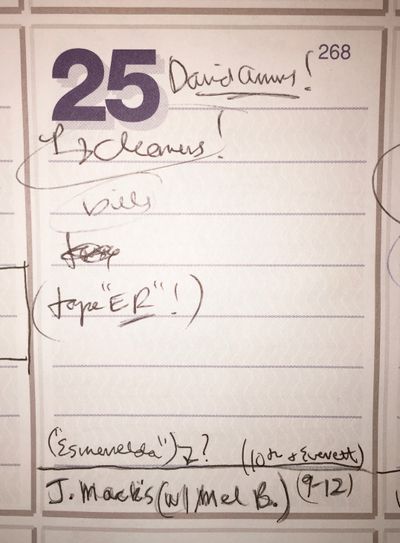 In truth, while the music was thrilling that first night, the turnout was thin, and it remained so the next several weeks.  But I remember seeing Jimmy the club owner sitting by the door a few weeks in, smiling at the low turnout and confidently saying he wasn't worried; he knew the crowds would come.  I thought, "what kind of great club owner is this guy?"  And sure enough, the crowds did come.  In fact, before long, people were literally lined up around the block on Thursday evenings to get into Jimmy Mak's to hear this exciting "B-3 Organ Group."  The gig was a phenomenon—the talk of the town.  The Pearl District was taking off then, and Jimmy Mak's took off with it, with music six nights a week.  But I'm proud to say that it was the organ group that got it started, with The Oregonian later dubbing us, "Jimmy Mak's signature band."
At the close of a set during those heady early days, I recall Thara telling a wildly applauding audience, "We'll be here every Thursday night for the next ten years!"  They cheered even louder, and we laughed at the audacity of Thara's exaggerated prediction.  As I like to say, you measure jazz gigs in dog years, so a 10-year run would be the equivalent of a 70-year non-jazz gig.  Who would have dreamed the Jimmy Mak's Thursday night gig would actually last TWICE that long?  Absolutely no one—not even the esteemed Mr. Memory (I've asked him)!
That was the beginning of the dream-come-true.  I was playing once a week with the great Mel Brown in an amazing organ group—playing my favorite genre of music (which in fact combines all my other faves—blues, soul, jazz, and gospel).  
Over the next 19-plus years, I got excited each and every week at the prospect of my Thursday gig.  Excited and nervous, because when you play with Mel the music is going to be intense and spontaneous.  Even when the song is familiar and pop-oriented, it's all about listening and reacting to each other in the moment.  And just when you settle into a groove, Mel is likely to yell out something like, "Stevie" (code for "I Wish"), or "Milestones" (the uptempo Miles Davis tune)," or "Tracy" ("Blues For Tracy," written for my wife).  We make eye contact, and a moment later we switch gears in mid-song—making an improvised seque.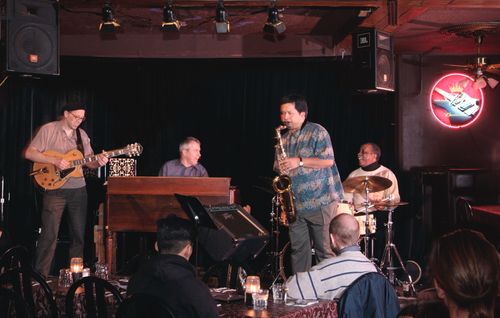 Each set is 80 to 90 minutes of intense, uninterrupted fun and concentration—especially when, as the organist, you are playing both keyboards and bass.  If you mess up, the whole band can crash and burn!  But in truth, that hardly ever happened over our long run at Jimmy Mak's, simply because Mel and the guys are all about teamwork—about supporting and covering for each other to make the music the best and most entertaining it can be.  We never rehearsed; we just showed up on Thursdays and played, improvising "arrangements" and segues on the spot.  The material was easily 50% blues, soul, & pop, but the approach was jazz.  The music was tight and accessible, yet spontaneous, and I think that fascinated audiences—including people that normally weren't interested in instrumental music.  It was fulfilling to see non-jazz fans' ears open up, and to watch young musicians discover a new musical genre.
Over the years, the Mel Brown B-3 Organ Group's personnel changed a bit.  Trombonist Stan Bock joined the fold, then handled brass duties alone when Thara left to focus on his "Superband."  Later, Renato became the lone horn, Dan Balmer replaced Dan Faehnle on guitar, and percussionist Curtis Craft went from sitting in to being a regular band member.  But the quality and character of the band remained the same, and as the years passed, I continued pinching myself to see if my good fortune was real.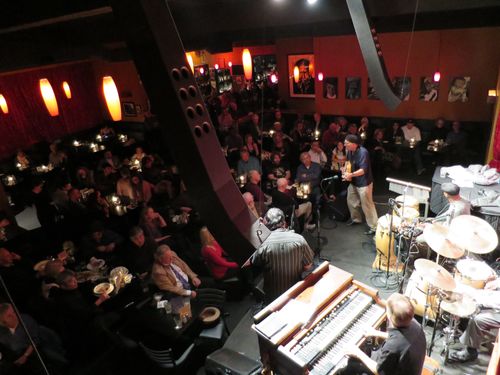 My first gig at JM's as a bandleader came in 2005, when I teamed up with a Portland jazz legend, the late "Sweet Baby James" Benton, to form "King Louie & Baby James."  I'd met James during those early weeks at Jimmy Mak's with Mel Brown, when I'd hear this smoky baritone voice emanating from a table as I'd walk towards the bar following a set.  The words weren't easy to pick out, but I could swear I heard stuff like, "Louis Pain: love maker, bed shaker, baby maker!"  Naw, couldn't be.  I'd walk on, a bit nervously!  But eventually I spoke to James and learned that, apart from being a hilarious character, he was a great vocalist.  After playing some gigs together with Jay Koder and the Kats and with The Original Cats, we eventually decided to do our own thing, and where else to try it out but at JM's?  Many memorable gigs followed, including a live-at-Jimmy Mak's CD on which you can hear James' inimitable banter (captured by mics I had the sound engineer place strategically near James on stage).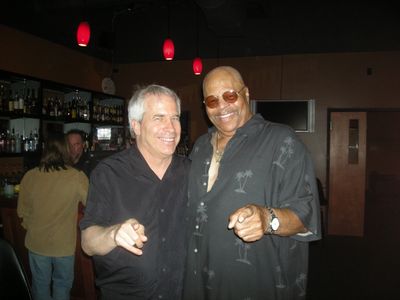 With the late, great Sweet Baby James
 
Following the passing of soul-singing great Wilson Pickett in January 2006, I emailed Jimmy Mak, offering to stage an all-star tribute to "the Wicked Pickett."  I'd rarely been a bandleader and had never put together an all-star band before, but Jimmy generously gave me a shot, and the inaugural "Portland Soul All-Stars" show was a big hit.  Dozens more all-star tribute shows followed over the next decade, each a labor of love, a truly memorable collaboration with amazing artists to pay homage to one of our heroes or to a genre of music we loved.  Like the Mel Brown Thursdays, those special tribute shows at Jimmy Mak's are a highlight of my career—a highlight that likely could not have happened anywhere else.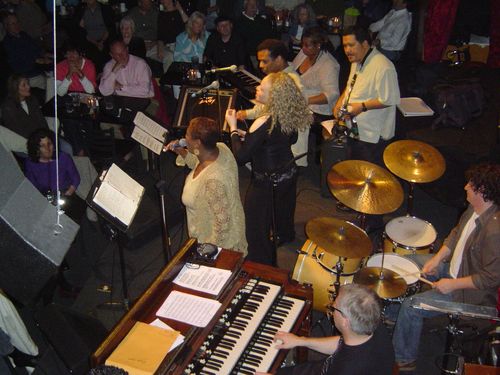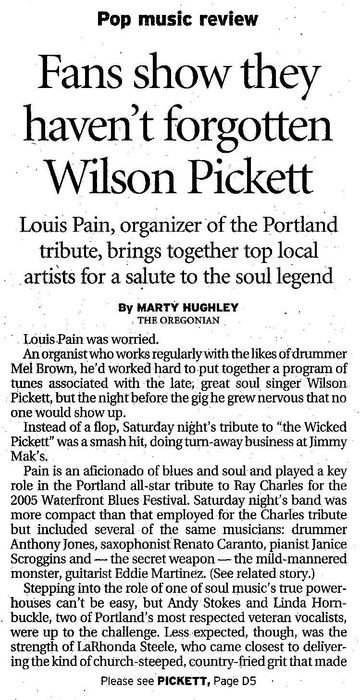 Some memorable shows I co-led at JM's over the years included King Louie & LaRhonda Steele gigs and "Andy Stokes Sings" shows—the latter including Andy's amazing tributes to Marvin Gaye, Teddy Pendergrass, and others.  My association with Andy and LaRhonda—amazing vocalists both—stemmed from the Portland Soul All-Stars shows, as well as from the shows we did together as part of the Linda Hornbuckle Band during Linda's long, courageous battle with cancer.
Then there were my hundreds of sideman gigs at Jimmy Mak's—sometimes the most enjoyable of all in that I had little responsibility save to play, and always with wonderful musicians in front of attentive, enthusiastic crowds.  Linda's gigs were among my favorites; even as she became sick, Linda's musical fire burned bright, and she had the funkiest band in town, including the late, great Janice Scroggins on piano.  (Keyboard players rarely get to play together, but I took full advantage of my Jimmy Mak's leader gigs to play with Janice time after time!)  
I also worked as a sideman with Soul Vaccination, Bernard "Pretty" Purdie, Trixie & the Nasties, Thara Memory, Hailey Niswanger, Lloyd Jones, Ty Curtis, and numerous visiting artists including Henry Johnson, Lady A & Dexter Allen, Bruce Conte, the Dirty Dozen Brass Band, Joe McBride, and the legendary Martha Reeves on three occasions.  These names are just off the top of my head!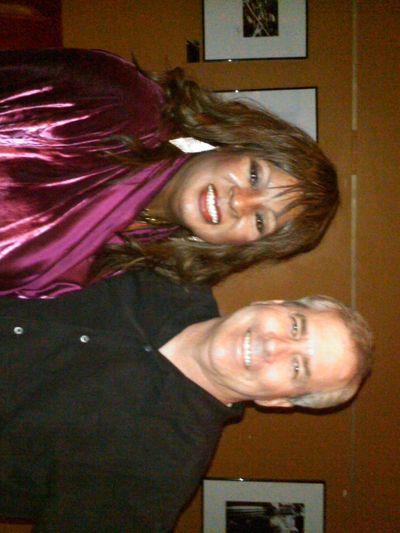 With Martha Reeves
 
Finally, there were all the opportunities to meet—and sometimes play with—visiting musicians who would just drop by Jimmy Mak's.  It's hard to think of a world class jazz musician who didn't visit the club at some point or another!  And we had our share of legendary artists (or their sidemen) from the blues, soul, country, rock, and even classical fields come by the club as well.  People would be bummed when they'd miss magic moments like a Bernard Purdie or Wynton Marsalis or Steve Miller sitting in, and we'd tell them, "you never know who's going to be part of the show at Jimmy Mak's!"  It was a regular thing, because JM's was renowned as a world-class music venue.
Meanwhile my wife Tracy—through the generosity of Jimmy Mak and his staff—helped stage a series of musician's benefits at the club, first for Linda Hornbuckle (as a member of a committee), then, via her own "Soul Sisters Productions," for LaRhonda, Tower of Power guitarist Bruce Conte (twice), and Tom Royer.  Tracy had always been a big part of my Jimmy Mak's experience—attending nearly every gig and, with Mel's wife Shirley, filling out what Jimmy had dubbed, "the Diva Corner" (from which spot the two would comment on people and events in colorful & humorous terms!).  Tracy also sold CDs, promoted our gigs, etc.  But with her involvement in the benefit events, Tracy became more deeply connected with the club than ever.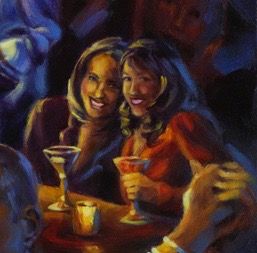 The Diva Corner (detail from painting, "Jimmy Mak's" by Diane Russell)
 
Like I said at the outset: so many memories of so many memorable nights.  Along the way there were hundreds of great people met and dozens of close friendships formed.  Over the years, Tracy and I became part of a true family made up of Jimmy Mak and his wife Stephanie, the club's wonderful staff, fellow musicians & spouses, and some club regulars.  We attended amazing shows there, celebrated birthdays, and hung out after our other gigs let out.  We'd tell stories and laugh until it hurt.  Jimmy Mak's was our home away from home—truly.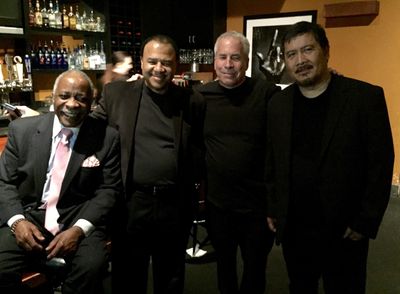 Hanging out with the great Henry Johnson following a gig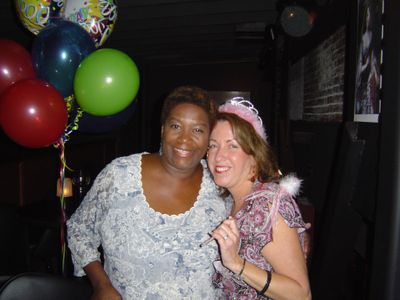 Tracy celebrating a birthday at JM's with our dear friend Linda Hornbuckle
 
I can't say how much I'll miss Jimmy Mak's if it disappears for good, probably because I'm in denial.  But I know it'll leave a gaping hole in my life—along with too many wonderful memories to count.  A Jimmy Mak's happens once in a lifetime—if you are very, very lucky.  Thank you Jimmy Makarounis.  Like the City of Portland at large, I owe you a huge debt.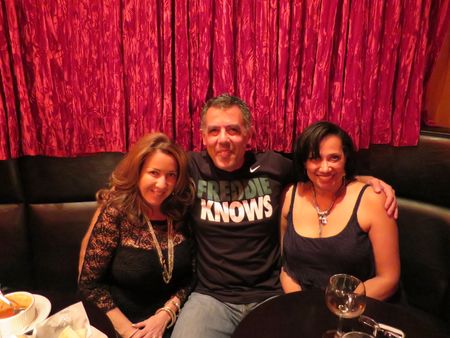 Jimmy in the "Diva Corner" with Tracy and Shirley Brown

----------------------

Addendum: Sadly, Jimmy Makarounis passed away days after I wrote the blog entry above.  He'd fought a long, valiant battle, not only against cancer, but to keep the doors of his club open.  None of those who knew Jimmy believe it was a coincidence that he died the day following the final Jimmy Mak's show--a packed New Years bash. Jimmy was not about to check out until the club he loved so passionately had hosted its last wonderful party.


P.S.  Below are a handful of posters from my JM's days (all designed by Dave Gill).  You can find more at my website under the "Gig Posters" tab.