Back in 2012, I posted a blog entry here about my long friendship with former Tower of Power guitarist Bruce Conte.  After Bruce passed in August 2021, Oregon Music News asked me to write a remembrance of Bruce.  I used that 2012 blog entry as a starting point, reworking and updating it for the remembrance.  The following is that OMN piece.
--------------------------
08/16/2021 
Bruce Conte Tower of Power guitarist remembered by his friend Louis Pain 
By LOUIS PAIN // Remembering Bruce Conte 
When word reached me this past Sunday (August 8th) that my oldest close friend, guitarist Bruce Conte, had passed away, I was shocked and stunned.  Bruce—legendary for his 7-year, 7-album stint with the iconic soul band Tower of Power in the 1970's—had dealt with a lot of health issues over the years, including leukemia.  But his leukemia had been in remission for some time, and I hadn't had the sense that Bruce was in any immediate danger.  I don't believe Bruce himself thought he was near death.  The call came late at night, and, as my wife Tracy cried out in pain and disbelief, I experienced my own flood of emotion accompanied by countless memories of Bruce.  
Our personal and musical friendship was a long and winding one, dating all the way back to our teen years.  We'd met in 1969, when Bruce was playing with my first music teacher, organist Norm Bellas, in a band called Common Ground.  The group rehearsed a couple times in the living room of my parent's home in San Francisco.  Bruce was just a couple of years older than me, but he'd been playing professionally for a long time already (going back to when he played bass in his hometown of Fresno at the age of fourteen).  Later, Bruce had switched to guitar—a natural move in that his older cousin, Victor (yes, THAT Victor Conte), was a bass player.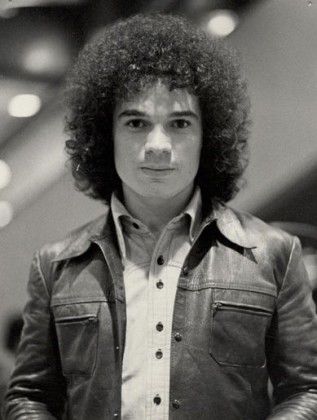 A young Bruce Conte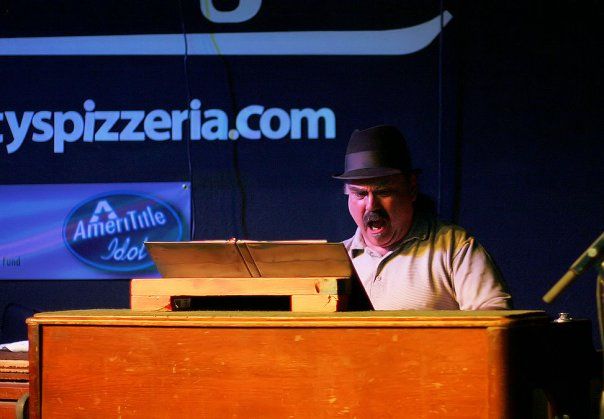 Norm Bellas 
At those rehearsals, the line-up of Common Ground included Norm, Bruce, bassist Karl Sevareid (later with the Robert Cray Band) and Lonnie Castille—the funkiest drummer you've never heard of.  That's him on Wilson Pickett's "Midnight Mover," and on Janice Joplin's "Try."  (Lonnie also recorded with Charlie Musselwhite and Rare Earth before giving up music and becoming a Jehovah's Witness.)  Before relocating to the Bay Area from Fresno, Common Ground had included Bruce's cousin Victor on bass, and Coleman Head had sung and played rhythm guitar (Head later wrote songs for Tower of Power among others).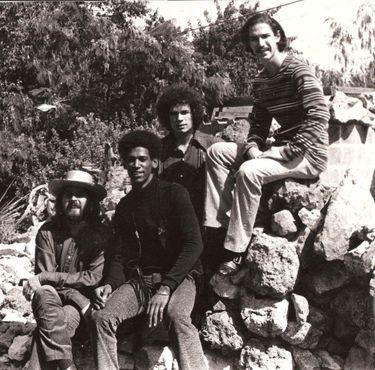 Common Ground, Fresno edition 
But back to Bruce and me... After Common Ground broke up, Bruce called Norm about playing a steady gig with him in Des Moines, Iowa.  This was in 1970.  Norm couldn't make it, and he recommended me.  Now, I was just 18 and still a complete beginner, but Bruce didn't have any other options, so I got the gig!  After stopping off at Bruce's parents' home in Fresno, we drove back to Iowa together in Bruce's little '68 VW Bug.  Along the way, we discussed our philosophical ideas (Bruce was into Ernest Holmes' "Science of Mind") and Bruce shared tips about women (not very helpful) and music (very helpful).  If my memory is correct, we made that long drive in a single day—talking all the way--fueled by a couple of little yellow pills.  Upon arriving in Des Moines, Bruce wisely flushed the remainder of those pills down the toilet; he thought they were a little TOO effective!  (Bruce later told me that during the final, late night hours of our drive, he'd seen dinosaurs keeping pace with us to the side of the freeway.) 
Needless to say, I was excited to be on the road, preparing to play my first gig.  We were to play in a band led by a drummer named Red Williams, whom Bruce knew from Fresno.  (Another Fresno musician, a young bassist named Charlie Magarian, arrived in town a couple days after we did.)  Red was living in the 'hood, at the home of his vocalist girlfriend's mom, and that's where we stayed as well.  There were amusing aspects to our residence there—including the vocalist's amorous younger sister, who kept saying—with disturbing intensity, "I'm gonna getcha, Bruce!"  The matriarch of the family was a tough lady—feared in the neighborhood, we were told--but she fed us soul food and generally made us feel at home. 
Things changed, however, when Bruce decided the gig wasn't shaping up well and that we should head back to Fresno.  (Among other problems, Red the drummer wore a hearing aid—except when drumming!)  We were in the backyard preparing to leave when the vocalist's mom got word of our plans.  Suddenly the back door flew open and a skillet full of hot grits came flying in our direction.  Bruce, Charlie, and I ran to the VW and peeled rubber.  As we pulled away, we heard a shotgun blast in our wake! 
We'd escaped unscathed—if unpaid, as we'd never actually played a gig.  But now the three of us were crammed into that tiny Bug along with our luggage and Bruce & Charlie's instruments & amps.  (I'd had my cut-down Hammond shipped out there, and Red was nice enough to arrange shipment of it back to SF following our hasty departure.)  Bruce and Charlie sat in front, and I was shoehorned into a tiny crevice in back.  Once again, Bruce had a pharmacological solution: he gave me a sleeping pill and I slept all the way back to Fresno.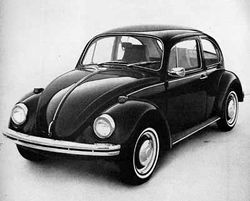 Volkswagon Bug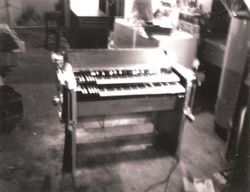 My first cut-down 
So my first road trip was a bit of a fiasco.  Still, it was an exciting adventure for a teenaged keyboard player, and it was the beginning of my long friendship with Bruce.  Soon after my return to SF, I was able to hook Bruce up with a popular Bay Area band called the Loading Zone, then featuring vocalist Linda Tillery.  (By this time, I was studying with Loading Zone organist Tom Coster, who had mentioned their search for a guitarist.)  I attended Bruce's audition with that band, and it was an unusual one.  Guitarists were lined up to try out for the gig.  But only a couple of minutes into Bruce's audition, bassist Doug Rauch (later bandmates with Tom Coster in Santana) unceremoniously stopped the proceedings.  In a weary voice, he said something like, "Crap, now we need to start teaching this guy all our songs."  When another band member objected, saying there still were a bunch of other guitarists to try out, Rauch shut him down, saying "Come on, this guy totally locks in with the drums, he's obviously the cat."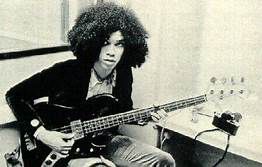 Doug Rauch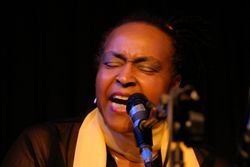 Linda Tillery 
Of course, Rauch was correct (if you Google him, you'll learn that he was a badass himself).  In fact, Bruce was one of the greatest soul/funk rhythm guitar players ever IMO, and easily one of the two best I ever played with (along with Portland's Doug Lewis).  Bruce was an expressive and unique soloist—you could recognize him in just a few notes—but his smooth, propulsive rhythm playing was his calling card.  He drove bands every bit as much as the drummers did (he once told me that drummers either loved or hated him, because his time didn't slow down or speed up if theirs did).  Current TOP guitarist Jerry Cortez wrote earlier this week in a Facebook post: "Unbelievable pocket and sense of time Bruce possessed…He was one of the most unique guitar players ever…I have studied him up close and still can't get anywhere close to his subtle attack and tone."  
That gig with the Loading Zone led indirectly to Bruce's joining Tower of Power a year later, as the Loading Zone shared rehearsal space with TOP and regularly opened for them, and the latter band was having issues with their guitarist.  In Tower, Bruce combined with drummer David Garibaldi, bassist Rocco Prestia, and organist Chester Thompson in a ground-breaking rhythm section that influenced countless musicians world-wide.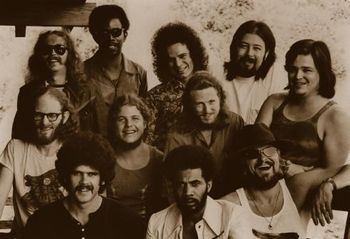 Tower of Power 
During this period--Bruce's Loading Zone stint and his first year or two with TOP--we lived together in a couple of musicians' pads—first in Berkeley, then in nearby El Sobrante.  (Other musicians staying with us included guitarist Richard Saslow and drummer David Bartlett, who went on to record an album with TOP.)  In Berkeley, I'd tag along with Bruce to La Val's Pizza, where he'd sit in at the basement jam sessions (the floor was covered with sawdust) with great Bay Area blues/soul musicians Charlie Musselwhite, Clay Cotton, John Knight, Terry Hanck, and others.  I was too nervous and inexperienced to sit in myself, but I'd soak it all in.  At our Berkeley home just blocks away, as well as later in El Sobrante, we'd listen together for hours on end to Maceo Parker's, "All the King's Men" and "Dyke and the Blazers' Greatest Hits"—two seminal funk albums.  But we'd also wear out albums by two of Bruce's soul-jazz guitar faves: George Benson and Grant Green.   
Bruce would practice a lot—always while watching t.v. (Star Trek and The Untouchables re-runs were favorites). Occasionally he'd break into an Elvis impersonation that would culminate with him flopping backwards onto the bed, still holding his guitar. That was hilarious! But Bruce always had a great sense of humor. He enjoyed making fun of my habit of shuffling my feet while walking around the house in my socks. He'd complain that he could hear it from the next room. 
A few years later, when I was living in San Francisco and Bruce was a few miles south in Burlingame, we'd get together to go fishing at the Brisbane Tubes just south of Candlestick Park on Highway 101.  Great fishing spot, but occasionally we'd get kicked out.  The spot is right on the edge of the highway, and the CHP officers liked to keep it for themselves!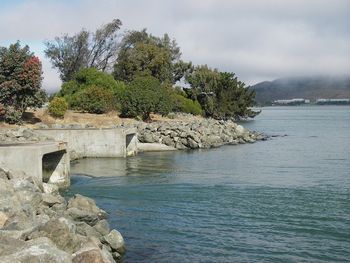 Brisbane Tubes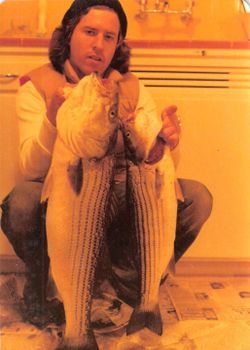 Me with Brisbane Stripers 
Following Bruce's seven year run with TOP, which coincided with the band's heyday, he formed a group called Jumpstreet, featuring vocalist Gavin Christopher.  That was a fine band; Christopher was a gifted singer/songwriter (he wrote Chaka Khan's "Once You Get Started" among other hits).  But Herbie Hancock heard the band and hired away Christopher and the group's keyboardist, Nate Ginsburg.  That was a blow, but Bruce landed on his feet, first organizing & booking a horn-less band for Cold Blood vocalist Lydia Pense, then returning to leading his own group, now dubbed Hot Street.  I played keys; other members included a fiery female vocalist, Terri Smith, drummer/vocalist Jimmy Walker (who'd replaced Bill Medley in the Righteous Brothers), and powerhouse bassist Gary Calvin.  We gigged around the south Bay Area and in Fresno in 1982, playing cover material but also some originals.  To get an idea of what that band sounded like, check out "Somebody New," a demo track we recorded, penned by Coleman Head and Nate Ginsburg.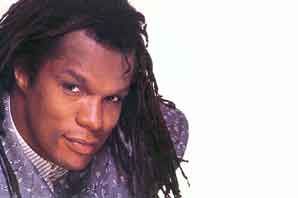 Gavin Christopher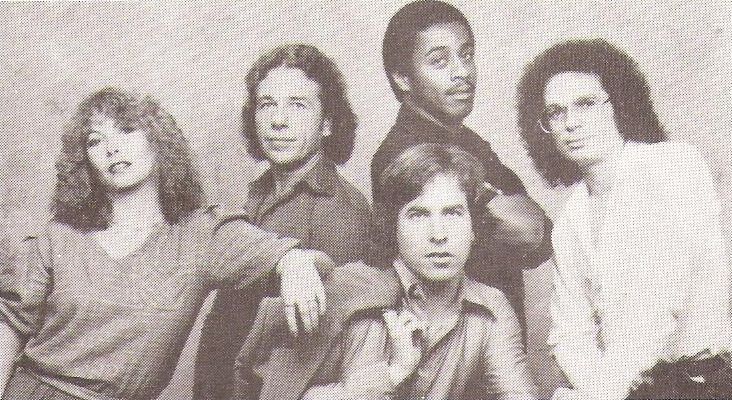 Hot Street circa 1982 
After Hot Street broke up, Bruce and I went our separate ways.  He moved to L.A. and led Power Play, a group that performed in Vegas, and I led a soul-jazz organ trio.  (The name of that band? Common Ground; I'd kind of inherited that.)  The Hot Street break-up had been a little contentious (as band breakups tend to be), and Bruce and I didn't talk for several years.  Bruce had developed a heroin addiction in his 20's, and it's never a good situation when the bandleader has a drug habit.  But eventually, after I'd moved to Portland in '86 and Bruce had gotten clean, we got back in touch—exchanging long phone calls.  (Bruce maintained his sobriety for the rest of his life.)  And when I visited L.A. with the Paul deLay Band around '95, Bruce played host and tour guide, taking us to a Hollywood jazz club to hang out and listen. 
Bruce and I continued to talk sporadically until 2011, when I had the idea of getting Bruce out to Portland to play at the Waterfront Blues Festival with Soul Vaccination, which I was a member of at the time.  It seemed like a natural, seeing as Soul Vax is an excellent horn band that plays a bunch of TOP tunes and is even named after one of the band's signature songs.  Bruce was living in the Philippines by that time, but he got home to Fresno every summer for a couple weeks, during which time he'd line up a few gigs and recording sessions.  So I got everything coordinated with the help of my former Paul deLay bandmate Peter Dammann, who hires talent for the festival, and Dave Mills, bandleader of Soul Vax.  Peter gave us the festival's closing slot: on the Fourth of July, right before the fireworks.  Dave was also able to book a club gig for Bruce and Soul Vax--at Portland's Jimmy Mak's--for later the same week.  My wife Tracy, a flight attendant, arranged cheap flights from LA for Bruce, and he stayed with us during his stay (becoming buddies with our three cats).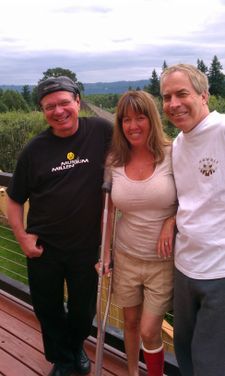 Bruce and me with my wife Tracy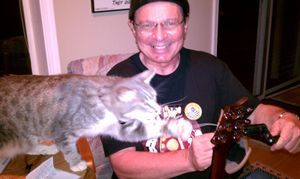 Bruce with Marty the Cat 
The band—thirteen strong--assembled at our Washougal home a few days prior to the festival.  (The house features a large basement "Man Cave"—perfect rehearsal space for even a big group like this one.)  We decided on material then, and arranged & rehearsed it, with Bruce suggesting adjustments to the band's rhythm arrangements and Dave rearranging the horns accordingly.   Everything came together beautifully, and afterwards, as we hung out in the kitchen, Bruce suggested recording the Jimmy Mak's gig. Dave said, "sure," and that was that: we decided to make a live CD together.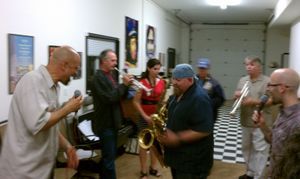 Soul Vaccination Rehearsal in the Man Cave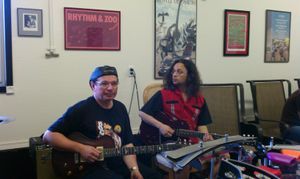 Soul Vaccination Rehearsal in the Man Cave 
The blues festival set went great, but the Jimmy Mak's gig went even better. The band was tight, and Bruce took some phenomenal guitar solos—a couple of which included breakdowns to feature his dynamic rhythm guitar playing.  In the mix of Tower Of Power recordings, the power and uniqueness of Bruce's playing didn't entirely come across.  But on the live Soul Vax CD, it's beautifully highlighted.  In a sense, that CD, titled "What Is Hip," is a re-imagining of Tower of Power as a band in which Bruce's guitar and the horn section share the instrumental spotlight.  Hip indeed!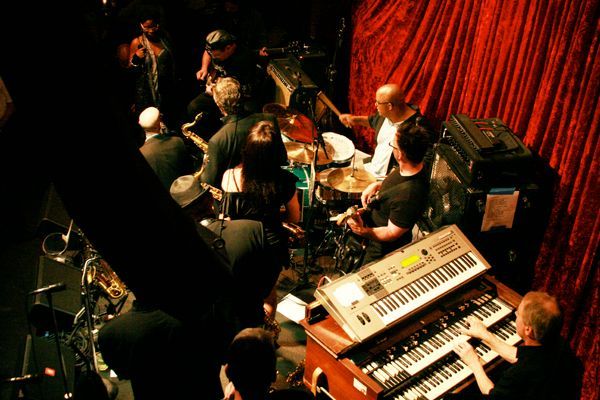 Bruce with Soul Vaccination at Jimmy Mak's July 9, 2011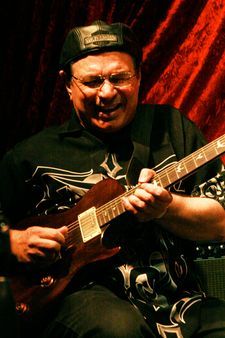 Bruce with Soul Vaccination at Jimmy Mak's July 9, 2011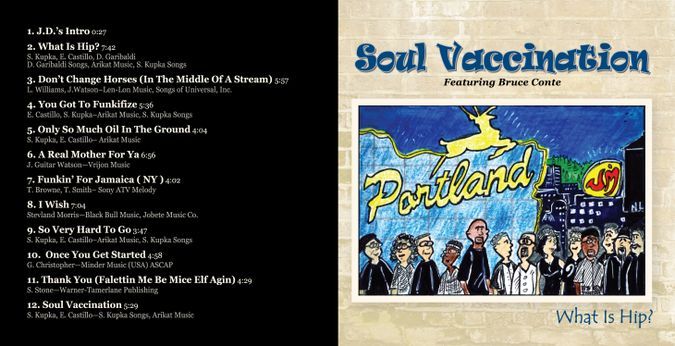 What Is Hip CD cover 
During the nine-plus years following the release of that CD, my close personal and musical friendship with Bruce continued. After he was diagnosed with leukemia in July 2012, my wife Tracy led the organization of three different concert/auction fundraisers to help with his leukemia-related expenses: at Portland's Jimmy Mak's in March of 2013 and 2015 and at Yoshi's in Oakland in September 2013. (Our keyboardist friend David K. Mathews was instrumental in lining up performers for the latter event.) All were all-star concerts featuring some of the best blues, funk, & soul musicians to come out of Portland and the Bay Area, including Lydia Pense, San Jose keyboard legend Clifford Coulter, and members of Cold Blood, Tower of Power, Santana, the Loading Zone, and more.  Chester Thompson participated in all three events as well as a memorable "funk workshop" with Bruce between the two evening concerts of the 2013 benefit.  Here's the link to a never-before-seen performance at that workshop by Bruce, Chester, and drummer Edwin Coleman III.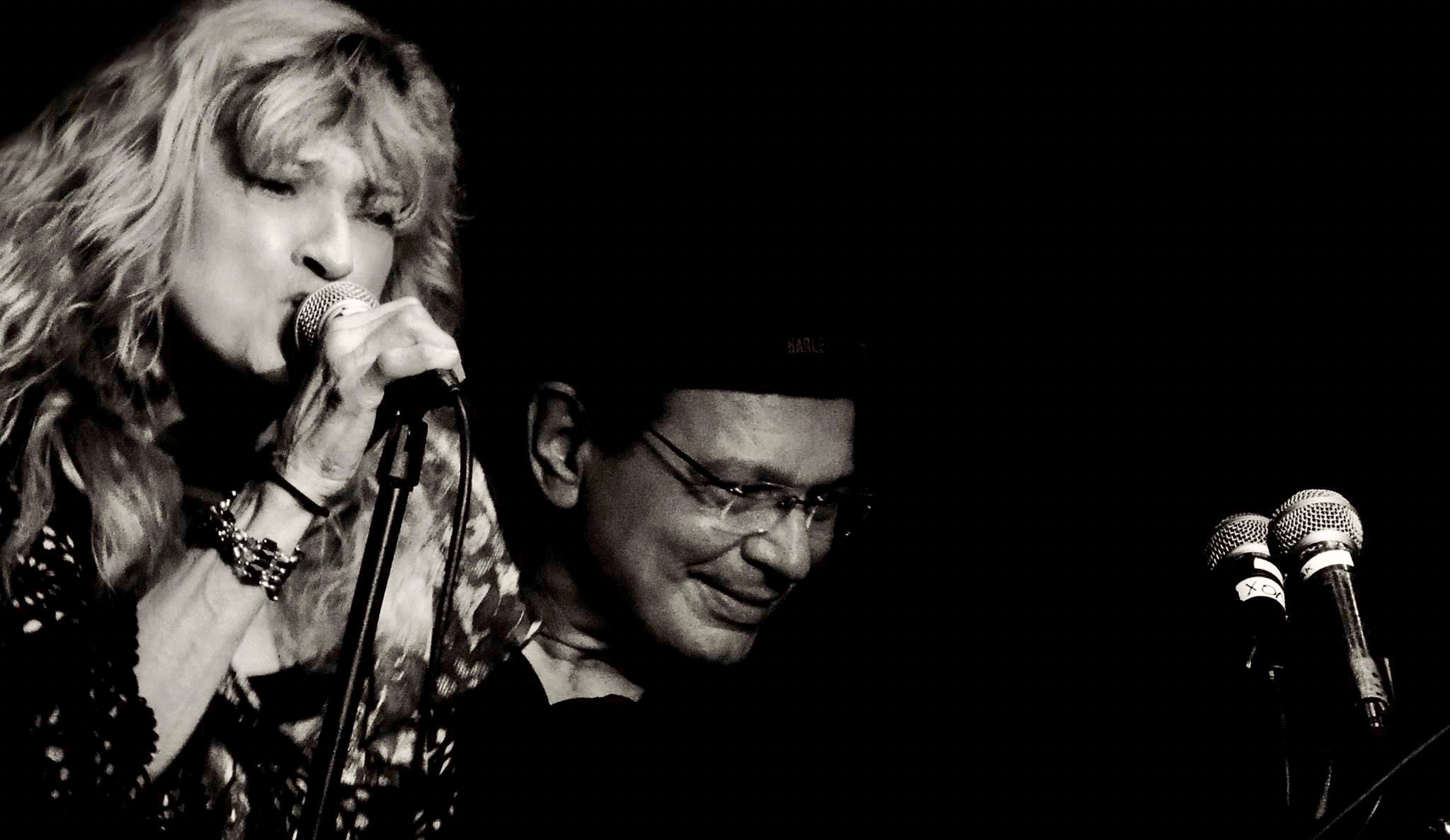 Bruce with Lydia Pense @ Yoshi's / Photo by Tina Abbaszadeh 
The  2015 fundraising concert was recorded for a completed but unreleased CD, "Bruce Conte & Friends, Live at Jimmy Mak's."  One tune in particular, "Help the Poor"—especially beginning at the 4-minute mark—captures the power & excitement of Bruce's rhythm guitar playing as well as a rare recorded example of his soulful singing. (That's Renato Caranto on sax and Brian Foxworth on drums along with Bruce and me.)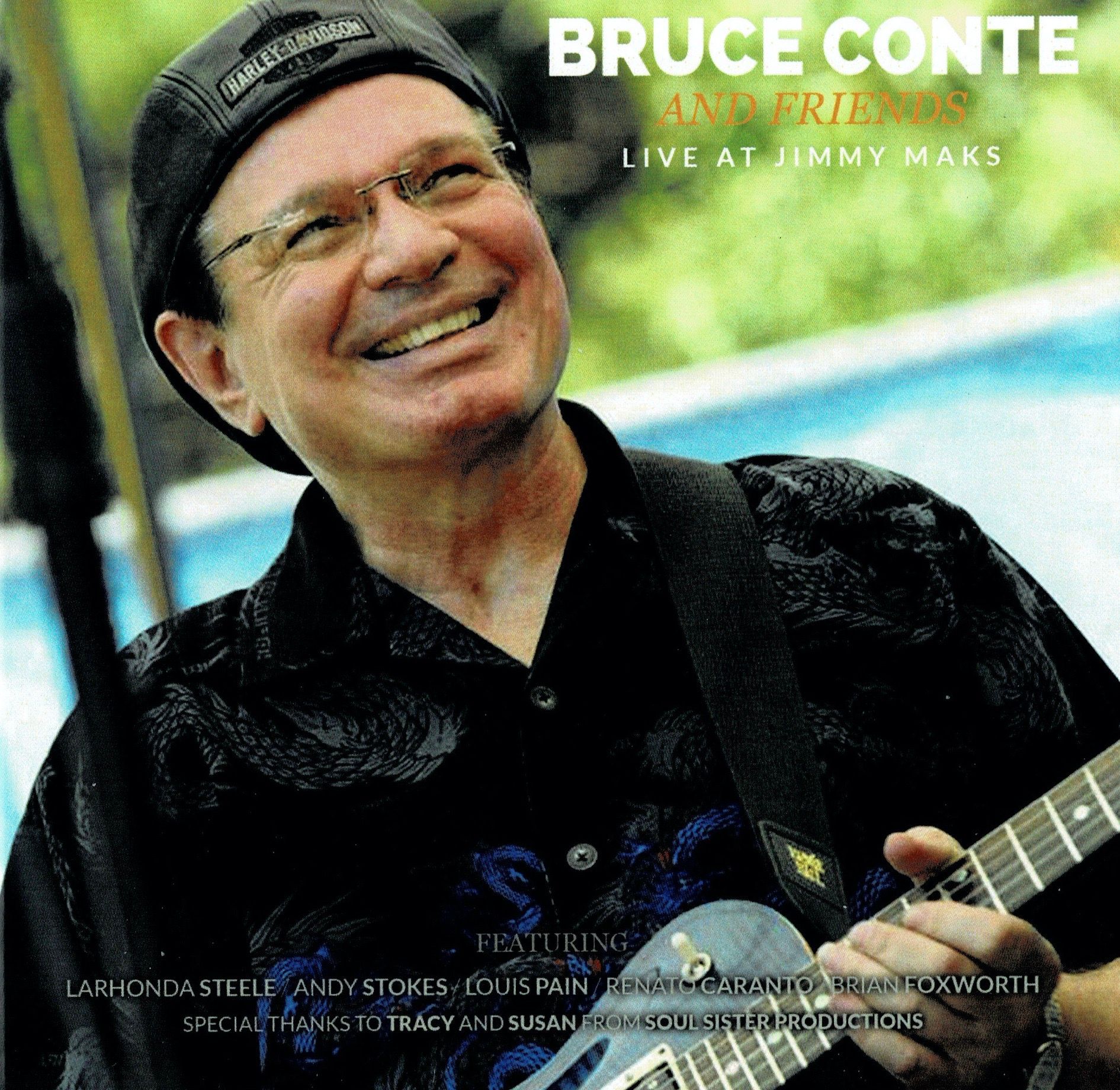 Bruce Conte and Friends CD cover 
A few years later, when I prepared to record my first CD of original instrumentals in 2019, I was stumped as to how to get the guitar feel I had in mind.  I kept hearing Bruce's rhythm guitar in my head, but we were recording live in a Portland studio and Bruce was over in the Philippines.  Ultimately, I decided to bend the "live in the studio" approach, recording the eight funkiest tunes sans guitar, then sending those tracks to the Philippines for Bruce to overdub guitar on.  I knew he hadn't been playing much and had been dealing with some health issues, so I kind of held my breath to see what he'd send back to me.  Meanwhile, the days until our scheduled CD release were ticking down.  When I finally did get the completed tracks from Bruce and listened to what he'd done, I got so excited that I yelled out loud and scared Tracy!  He had nailed everything, with zero input from me.  One of the tunes, titled "Brulie" after Bruce's childhood nickname, was built around Bruce, with 8 bars left completely empty save the drum hi-hat—leaving space for one of Bruce's patented rhythm guitar breakdowns.  After mixing & mastering, I sent the completed CD to Downbeat, the world's top jazz magazine.  They included it in their year-end "Best Albums of 2019" issue.  I'm absolutely certain that wouldn't have happened without Bruce's contribution.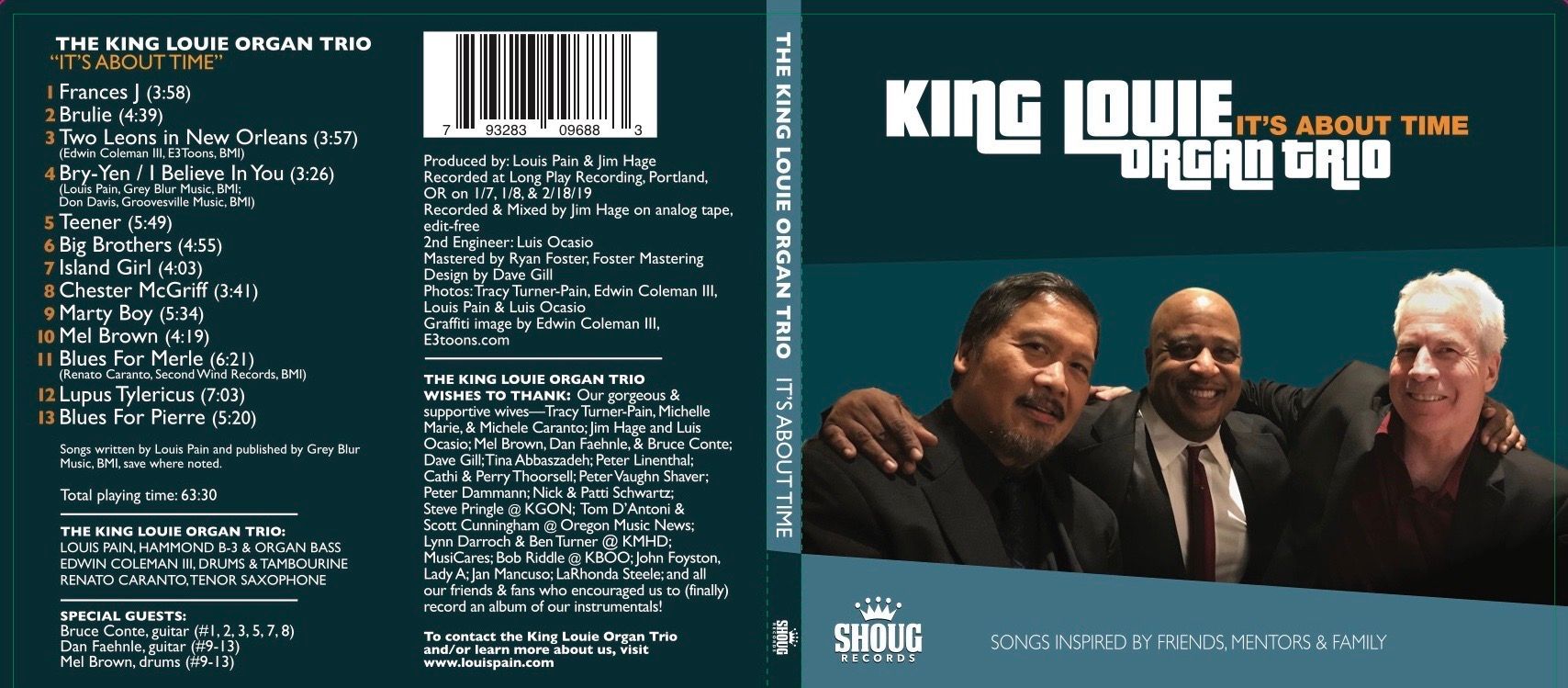 It's About Time CD cover 
Along with all of our planning and music-making during the years I was living in Portland and Bruce was in the Philippines, we did a lot of reminiscing about our early adventures together—particularly that memorable, but abortive, road trip to Des Moines.  We shared many laughs about that!  And during Bruce's visits to Portland--during which he always stayed with us--Tracy and Bruce became every bit as close as Bruce and I were.  They often texted back and forth (Bruce would always address Tracy as "Queen") about various subjects, including Bruce's health, my teenage quirks, and their shared love of Persian cucumbers and our seven-toed cat Marty.  In one of Bruce's recent texts to Tracy, he wrote, "Hi Tracy, you are family to me.  I will never forget you as long as I live.  I love you and Louie like my brother and sister"—and we felt the same way about him.  After Bruce's first Portland visit in 2011, I had a sign made to hang over the guest bedroom he stayed in.  It read, "The Conte Bedroom."  That sign has been up ever since, and it'll stay up for the rest of our lives.  
Our biggest regret is that we didn't get to say goodbye to Bruce.  R.I.P. Brulie; we'll love you forever.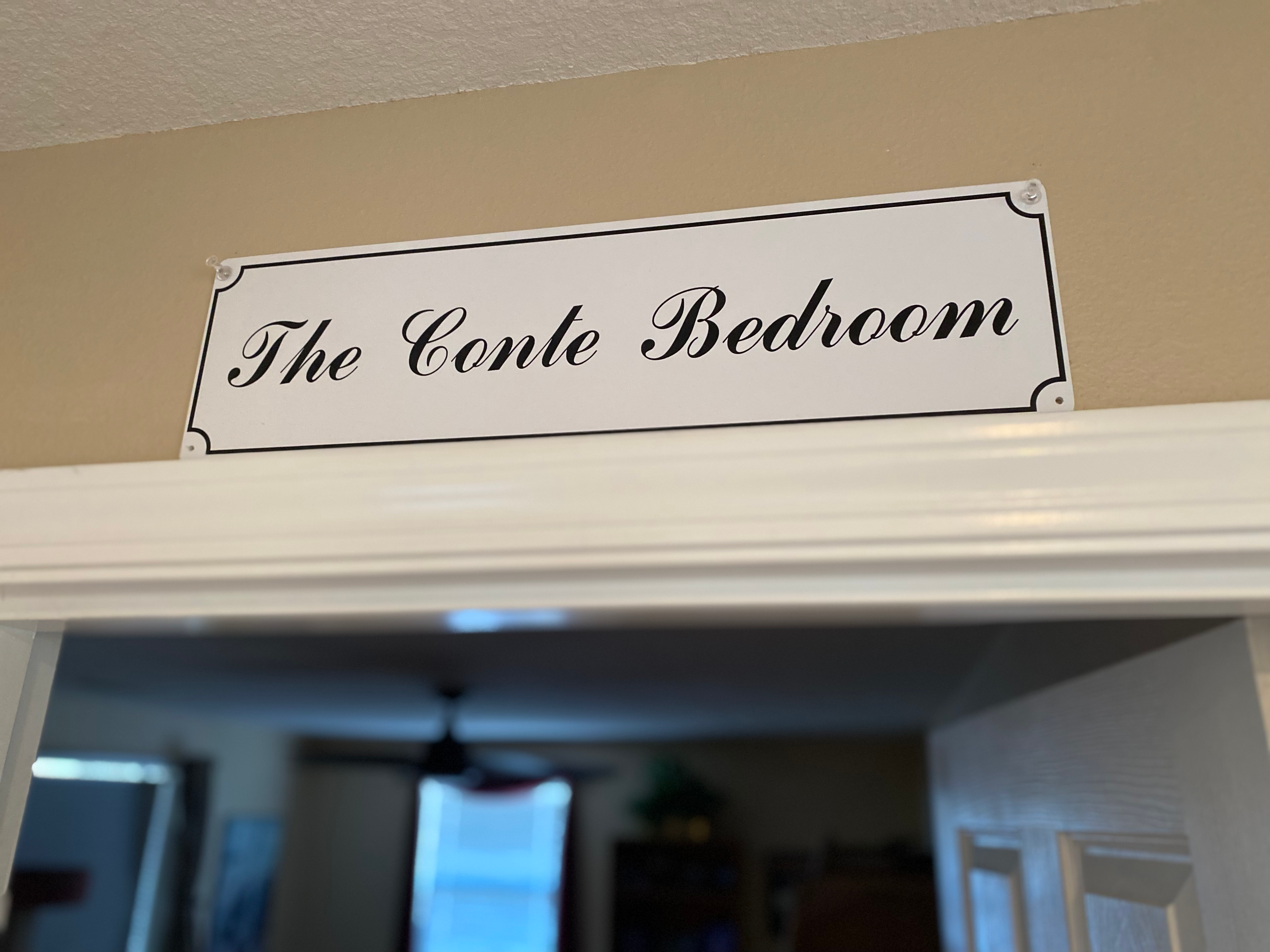 The Conte Bedroom Sign