I was an "early adopter" of video recorders, purchasing a Quasar VHS top-loading VCR soon after the machines made their debut.  I don't remember the price, but it was steep, and the blank tapes were no bargain either at $16 apiece (that was on sale)!  Likewise, I jumped on "Hi-Fi" VCR's when they first went on the market, and on "Super-VHS" machines when they appeared (with their own over-priced blank tapes). 


There was a method to my madness: back in those days (late '70s thru early '90s) I was dedicated to recording all the jazz-blues-soul-gospel music I could find on-air, and in the best quality possible.  I studied T.V. Guide religiously each week, marking those rare live performances by exciting artists with a highlighter pen and programming accordingly.  If the performance turned out to be lip-synched, I erased it.  But if it was the real thing, I saved and archived it.  The result: I have a library of nearly two hundred hours of video recordings of off-the-air musical recordings--complete with an alphabetical index.  Some of those performances are truly rare--no one has posted them on YouTube.  Others have been posted before, but in poorer quality.


The bad news is that converting those video clips to digital and then uploading them to YouTube is time-consuming, and I've only recently and sporadically begun digging into my "Video Vault."  But I've already posted some real gems, and there's more coming.  So I thought I'd give readers of this blog a head's up: there's gold in them thar postings!  Here's the link to my YouTube channel.  Amongst videos of my various bands and, OK, some family videos, you'll find great, rare clips of Toots Thielmans, Gladys Knight & the Pips, Mariah Carey, Phil Woods, Billy Preston, etc. 


One of the most outstanding--and timely--clips I've posted so far is of Whitney Houston, with her mother & brother, performing a gospel song titled, "Wonderful Counselor."  [The clip is about 23 slots down the menu.]  This performance is from the 1988 American Music Awards.  Recorded using a SVHS machine, the sound & picture quality are excellent. 


Any Whitney fan would love the clip.  But so would a lot of non-fans.  Really, I think Whitney is irresistible here, clearly delighting in sharing gospel music with a national audience and in featuring her mom and brother. Oh, and the band (hidden behind the curtain) is smoking!  I've never seen an AMA or Grammy audience react as enthusiastically to a performance as they did to this one.  It's definitely poignant to see now.


Feel free to subscribe to my YouTube channel (it's free).  I'll be uploading lots more clips in the upcoming months.  It's a shame to have them just gathering dust in the Man Cave.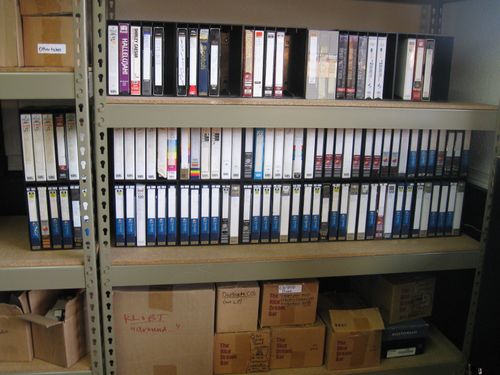 King Louie's Video Vault.  There's gold in them thar Gorilla Shelves!