Last night, I played a gig with "Big Monti" Amundsen at the Trail's End Saloon in Oregon City, OR.  Nothing too remarkable there: I'd played five or six times with Monte before, and back in the day I played at the Trail's End all the time, especially with the late, great Paul deLay.  But what was different last night was that I didn't bring an organ & Leslie speaker to the gig.  In fact, while the keyboard I used--my Nord Stage 2--does have a great organ sound, I played piano and electric piano on it almost exclusively (playing thru a 25 lb amp instead of a Leslie).


What sacrilege is this?  "King Louie" away from an organ is like a true monarch away from his crown & throne!


Actually, I've expressed my inner pianist from time to time since moving to Portland, and even played some piano on Paul deLay CDs (when not bringing in the "NW Piano Lady," Grammy-nominated Janice Scroggins, to do the job).  But I'm known almost exclusively as a Hammond B-3 (and B-3 "clone") specialist: "Portland's boss of the B-3." The occasions when I've been seen playing piano have been far & few.


In fact, I grew up in a home with one keyboard: a 1930 Mason & Hamlin piano, purchased for my mom by her mother when it was brand new. My mom played that piano—mainly classical--and we had family sing-alongs around it.  But I never had any interest in playing it--except as a very little boy, when I'd crawl under it and manipulate the pedals while my mother played.  I'd exclaim, "I'm playing the piano!" My mom was a patient and loving woman. :-)

I only developed an interest in that piano when, as a teenager, I heard my older brother Duncan Pain's band. That group included a Hammond organist, and I was instantly attracted to the instrument.  Thereafter--until my folks broke down and bought me my first organ--I played and practiced on the trusty family piano.  But, while playing it, I generally pretended it was an organ!  I even played bass-lines on it, as you would on a B-3.  (Fortunately, Mason & Hamlin's have wonderful bass tone--even the 5' 8" models such as my mom's.)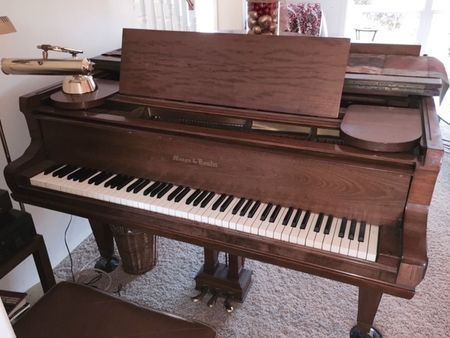 The Mason & Hamlin piano I inherited from my mom

As my organ-playing career developed, I had occasional, brief flirtations with piano. In my mid-twenties, I studied classical piano on & off for a year or two with a wonderful, highly-regarded Bay Area instructor, the late Rebecca Weinstock. I'd come to feel that, since nearly all the best organists had started on piano, I needed to backtrack and learn "the right way," including classical music and notation. Rebecca did teach me some very valuable lessons about music and life. But I was a terrible classical piano student, and Rebecca could never quite figure out what to do with a student who wasn't really a beginner, yet couldn't read the simplest classical pieces. Poor woman!


Later, soon after moving to Portland, Oregon, I actually went thru a phase of believing what some others had told me: that the Hammond organ wasn't a legitimate instrument, but an electronic contraption. One evening, I ran into the great Portland sax player Jim Pepper (who I'd played a gig with once in San Francisco). I told him of my feelings and of my intention to abandon the organ and start seriously studying piano. Jim talked me out of it, saying that there were plenty of great piano players, but few organists who had my gift for the instrument. Coming from Jim, that was enough for me: I rededicated myself to the organ then & there.


That was surely a good thing, as I went on to carve myself out a great niche in Portland as an organist. But I guess my inner pianist never completely went away, and I've continued to practice on the instrument sporadically and to take the rare piano gig. Now that I have a great, portable piano/organ in the Stage 2, it seems my fledgling piano career is starting to take off a little. Ron Steen and Mel Brown have coaxed me into sitting in on piano a couple times, and my friend David K. Mathews told me I play pianistic ideas on the instrument—something organists often don't do. My wife Tracy is always urging me to return to studying piano, and I've actually spoken to Randy Porter (one of the best jazz pianists anywhere) about studying with him. Also, Tom Grant, another Portland piano great, has promised to help me some (he owes me, as I gave him an organ lesson a couple years back!).


I guess I'm realizing that a part of me was attracted to the piano all along. Of course, piano is never going to be my #1 thing. For one thing, I'm not nearly as accomplished on it. I don't have the "bag of tricks" that musicians develop on their primary instrument.


More importantly, I don't have the deep love for piano that I have for organ. Not even close: the Hammond B-3 is literally the stuff of my dreams. When I sit behind the organ, I truly feel like "King Louie" (as guitarist Jay Koder dubbed me); when I sit behind a piano I'm just Louis Pain. But the Stage 2 piano is a great change of pace for me: a different way to express myself, a different vocabulary. Oh, and did I mention? A much more portable one!



                    My Nord Stage 2 keyboard--featuring piano & organ sounds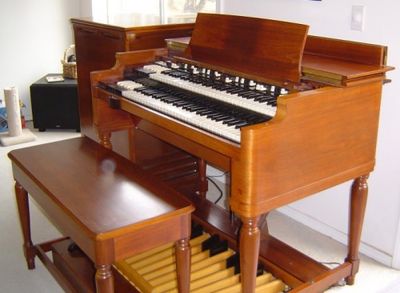 Are my B-3's starting to feel a little jealous?  No need: they'll always be the true love of my life!