UPDATE , 2-28-12: The 5-18-12 Wicked Wilson Pickett tribute by the Portland Soul All-Stars, referred to below, is being converted to an Etta James tribute (see details under the "Gigs" tab).  Stay tuned to this website re/ future stagings of the Wicked Pickett and other soul legends tribute performances.
- - - - - - - - -
It's been great, looking back & reminiscing as I've assembled materials for this website.  But as my first jazz bandleader, Jules Broussard, used to say, "The past is a nice place to visit, but I wouldn't want to live there."  I'd rather live right here in Portland, Oregon in 2012!

So I'm starting to focus on projects for the new year.  One that I'm already excited about is the May 18 reprise @ Jimmy Mak's of the Portland Soul All-Stars' "Wicked" Wilson Pickett Tribute.  We staged this show a couple times before, and on both occasions it was "a smash hit, doing turnaway business" (as The Oregonian put it).  Pickett was such an incredible soul singer, and he had so many great songs--not just the big hits like "Midnight Hour" and "Mustang Sally."  It's great fun to make those tunes come alive again.

This time around, the band will include vocalists LaRhonda Steele, Lisa Mann, and Sean Wyatt.  I know it's going to be dynamite!  Stay tuned to this blog for more info on upcoming shows for 2012.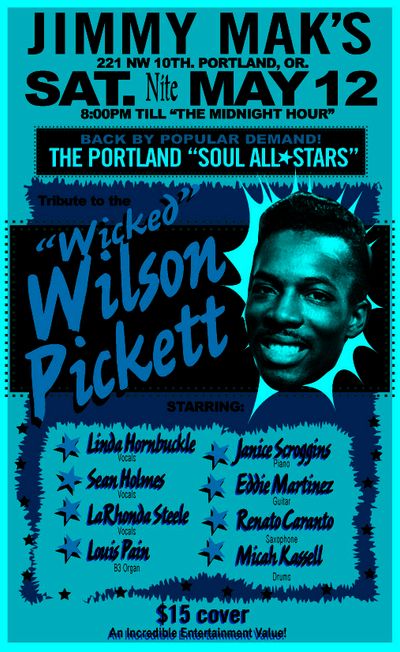 Poster for an earlier staging of the Pickett tribute (design: Dave Gill)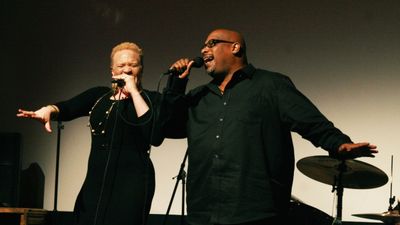 Portland Soul All-Star tribute performances draw standing--and dancing--room crowds